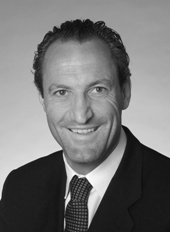 RA lic.iur. J. Martin Pulver
M.B.L.-HSG
martin.pulver@pulverlaw.ch
vCard
---
Languages
---
Expertise
Commercial law
Business law
Contract law
Corporate law
Sports law
Banking law
Stock exchange right
Capital- and market law
Company law
Tax law
IT-law
Commercial criminal law
Road traffic law
Marriage and inheritance law
---
In the year 1994 J. Martin Pulver was one of the founding members of today's lawyer's office PULVER ADVOKATUR.
Born in 1966, J. Martin Pulver studied at the University of Zurich and obtained his law degree in 1991. In the year 1994 he was admitted to the bar in the Canton Zurich. Martin Pulver completed a one-year postgraduate study at the University of St. Gallen and earned the title "Master of European and International Business Law (M.B.L.-HSG)". He took part in several seminars of the University of St. Gallen (2002-2003 "Fit for Finance", 2004 "Fit for Alternative Investments") and the Swiss Banking School (Executive Program) and graduated with diplomas. In 2006 J. Martin Pulver furthermore obtained the trader's licence of SWX Swiss Exchange. Furthermore, J. Martin Pulver completed a course as a certified tax expert (without degree).
J. Martin Pulver is predominantly working in the fields of economic law, company- and sport law, commercial law. His field of activity further covers banking law, stock exchange right, capital- and market law as well as corporate law, tax law, IT-law, commercial criminal law, marriage and inheritance law and road traffic law.
In addition to his duties as an attorney, J. Martin Pulver is a member of several boards of directors and gets involved with miscellaneous sportive associations. For instance has he been in the executive committee of the Swiss Judo Union for four years and was president of the "Bob Club Zürichsee" from 2006 to 2008. Further has he been the president of the trade association Dielsdorf and vicinity for five years. Since August 2011 J. Martin Pulver is the president of the football club Baar (FC Baar).
Publications
2005
Strukturierte Produkte und Regulierung – von der Idee bis zum Endkunden; Publikation der Swiss Banking School, Nr. 305, erschienen im Haupt Verlag 2005